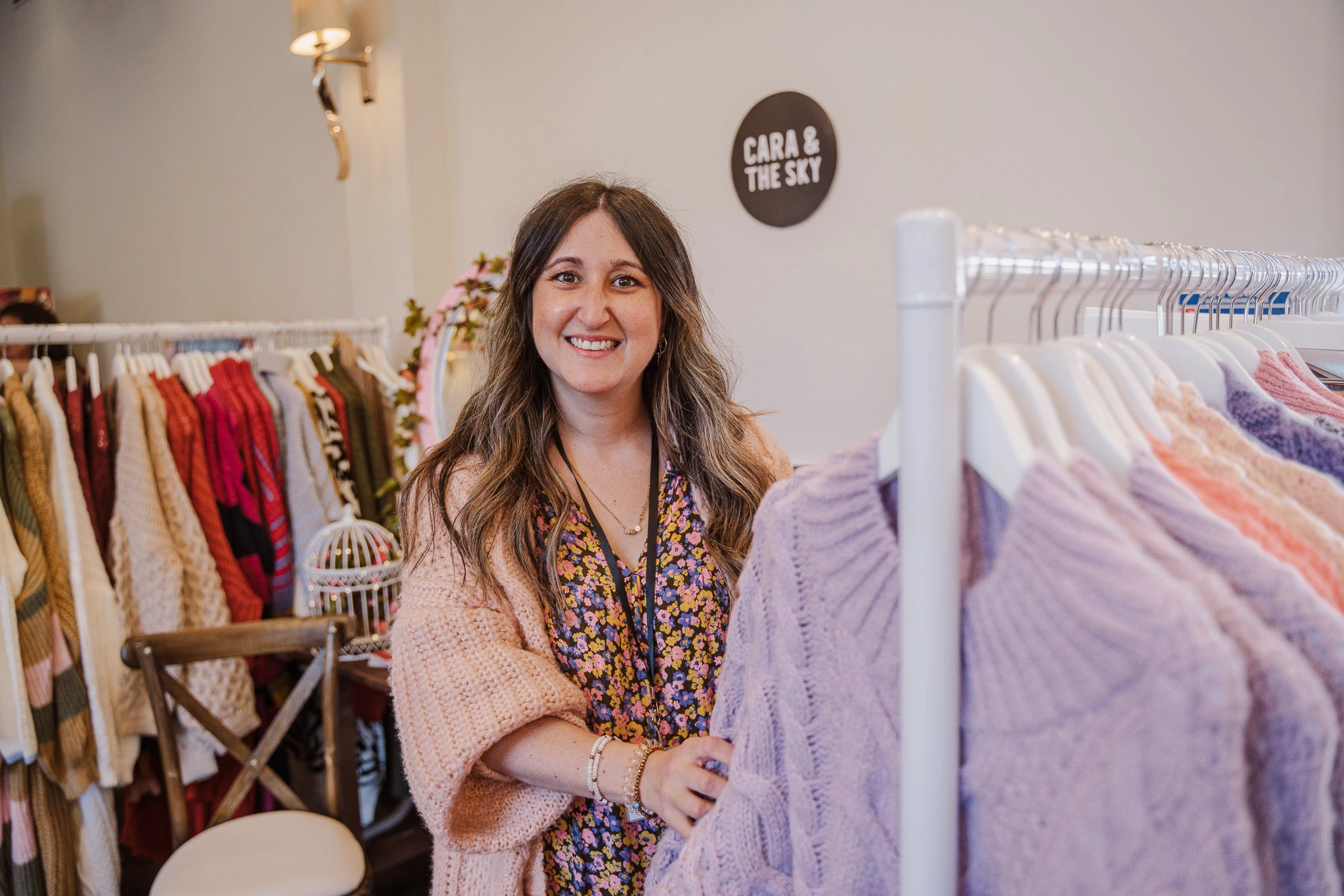 Cara & The Sky
northwood, London
Welcome to our colourful, cosy world!
We are Cara & The Sky – a female-founded slow fashion brand bringing you colourful knitwear for women. Our feel-goodknits are all consciously designed by me, Cara, and all produced locally in the UK.
When I was made redundant in early 2019, I took the chance to chase my dream of starting my own brand.
Having worked in the fashion industry for over 10 years as a buyer, it was an opportunity to use my expertise, knowledge and passion to build a knitwear brand with a focus on sustainability, colour and longevity, all the while supporting the British made fashion industry.
Positivity is woven into the fabric of the brand. I want to make people feel happy, to bring them joy every time they slip on one of my cosy knits and give Skybabe's around the world the opportunity to buy British made beautiful unique knitwear at an accessible price - whilst being as conscious and inclusive as possible!
Running the brand on my own, whist juggling my little girl and navigating a pandemic AND a cost-of-living crisis has been a wild ride so far! I am so grateful for all our Skybabe customers & stockist who have supported this crazy knitwear dream.
I hope you love my colourful cosy collections!
Proudly independent
A few favourite PIECEs
The story behind the business
Meet Cara & the Sky
Say hello to Cara & The Sky, a female founded, British made, sustainably focused brand bringing you beautiful unique colourful knitwear for you to fall in love with.
All my consciously crafted designs, including unique twist, colour and stitch combinations, have been developed in house by me, Cara, so are truly unique to the brand, giving you that boutique designer feel, but at a price that won't break the bank!
Everything is made locally here in the UK, which not only lowers my carbon footprint but supports the British made fashion industry which is so important to me! I only use fully audited factories so I know my workers are paid properly and are working in a safe environment.
I am a huge advocate of slow fashion, so my collections are produced in small batch runs. Everything is designed to be seasonless, trendless but statement, so you can buy from me safe in the knowledge that it will never go out of style!
Every day I challenge myself to 'Create A Right Attitude & Reach The Sky'.
As I know that when you believe in yourself, live life to the full and have the right mindset, then anything is possible…
...The sky's the limit to what you can achieve.
Discover more products
From Cara & the Sky
Returns
Returns Department
Fullers Fulfilment
Unit 68a, Whitehill and Bordon Enterprise Park
Budds Lane
Bordon
GU35 0FJ