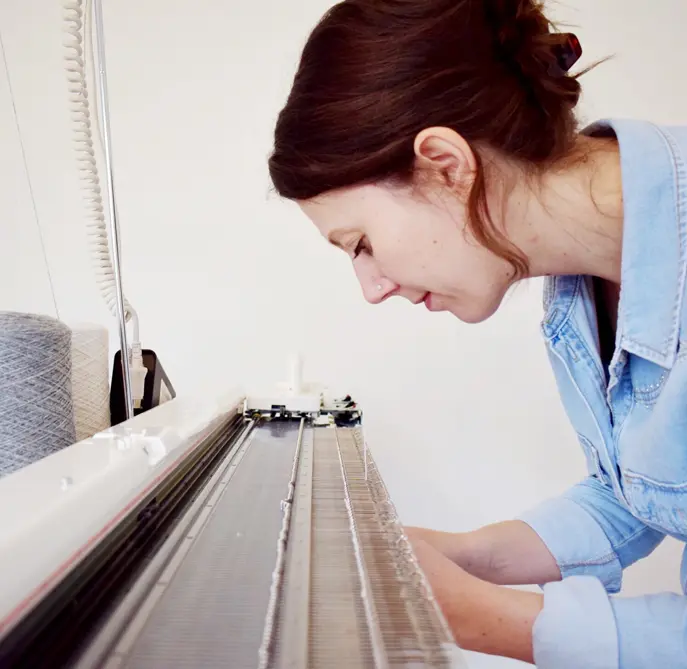 Marjorie Minnie
Bath, Somerset
Hi, I'm Gaby, a machine knitter, Textile Tutor and Mama to boy/girl twins. The idea for Marjorie Minnie was born alongside my babies when I struggled to find non gendered, contemporary accessories for their shared bedroom. Deciding to design them myself I began working with a small family run factory in Scotland who produce my knitted lambswool fabrics. I then hand make and finish products in my home studio in Bath, ensuring they are soft, natural & 100% British Made.
Proudly independent
A few favourite PIECEs
The story behind the business
Meet Marjorie Minnie
Some of my earliest memories are of watching my Nana, Marjorie Minnie, at work. She was a seamstress but loved anything craft, and I'm grateful that she had the patience to teach me to knit and sew at an early age. Through her I also learnt the value of the love and detail that goes into all things handmade.
I am in no doubt that this early influence in my life inspired my passion for creating, which led to my degree in Textile Design, specialising in machine knit, and later to my current role teaching at Bath School of Design.
When my children were born, my aim was to create gender neutral, sustainable products for family and home. It was imperative for me to design heirloom items that could be handed down through generations. In 2021 my cuddly creatures won Gold in Best Gift category at the JDAwards which was an amazing accolade that fulfilled this goal.
Discover more products
From Marjorie Minnie
Returns
Marjorie Minnie
6 Banwell Road
Bath
BA2 2UH