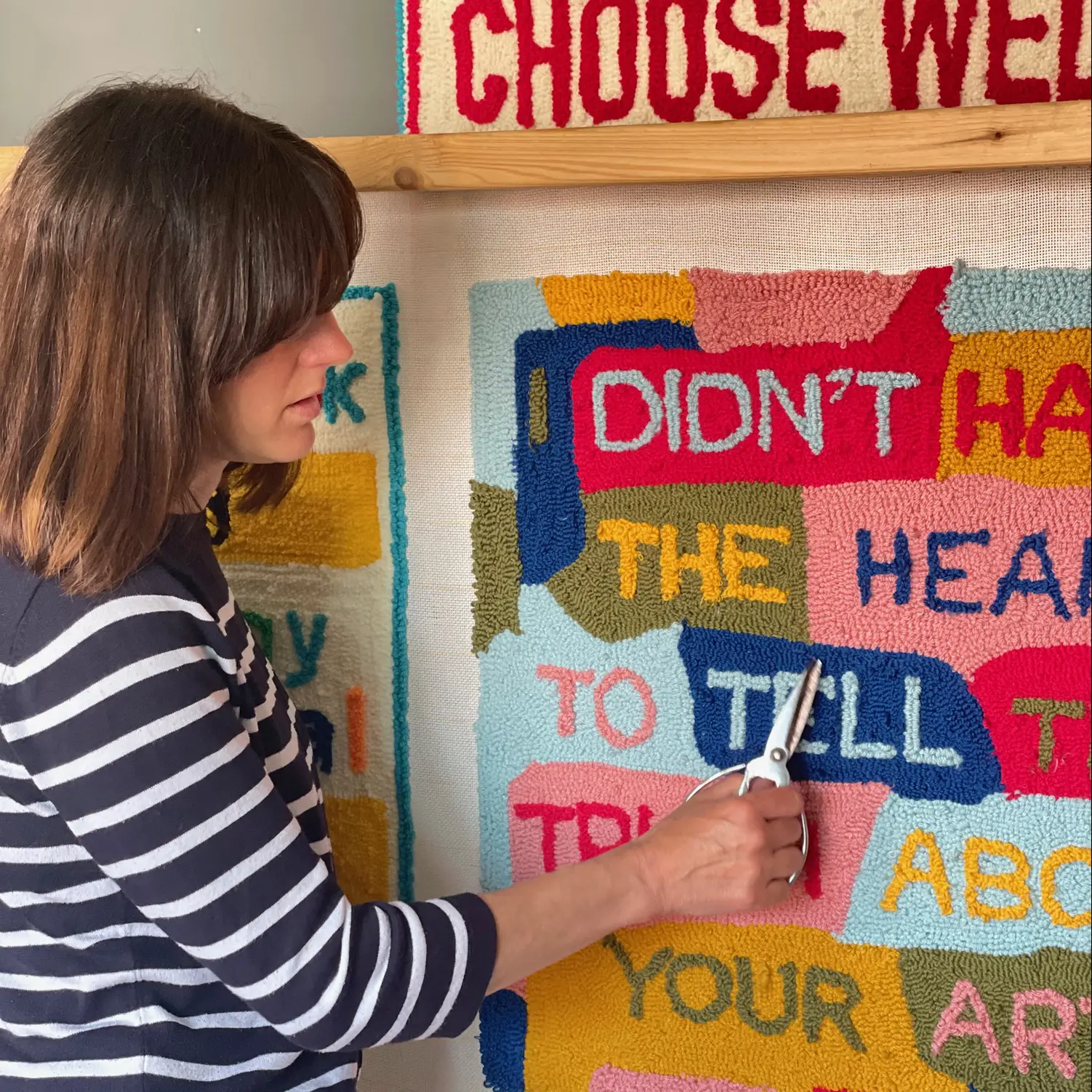 Bob & Eve
BRIGHTON, EAST SUSSEX
Bob & Eve was founded by me, Corinna Wilson in 2020.
The name evolved from the words bobbin and weave in reference to my use of textiles as a medium. Aiming to brighten the world with humour, my colourful works are an expression of my irreverent take on modern society.
Using a combination of hand tufted and machine based techniques to create one off pieces of art with wool, each artwork is designed and made in my studio in Brighton.
Proudly independent
A few favourite PIECEs
The story behind the business
Meet Bob & Eve
I grew up in a fairly traditional household surrounded by tapestries, cross stitch and patchwork quilts which instilled in me a love of creating, crafting and textiles. Having a background in commercial illustration I was looking for a way to make images which had more of a handcrafted feel to them and which evoked a sense of nostalgia.
For inspiration I listen to podcasts, conversations and comedy. I've always loved British humour and music, when people reference the everyday conversation or topics so distinctive to British society. Jarvis Cocker singing about Common People, The Kinks singing about the Village Green Preservation Society, John Cooper Clark poems. I like how they pick up on small details that spark a thought that you can relate to, often using humour to do so. I want to create some joy and laughter through my artwork. It's not supposed to be serious or challenging, I want my work to represent the everyday in society to find something people can connect with whilst making them laugh.
Discover more products
From Bob & Eve
Returns
6 Buxton Road
Brighton
East Sussex
BN1 5DE