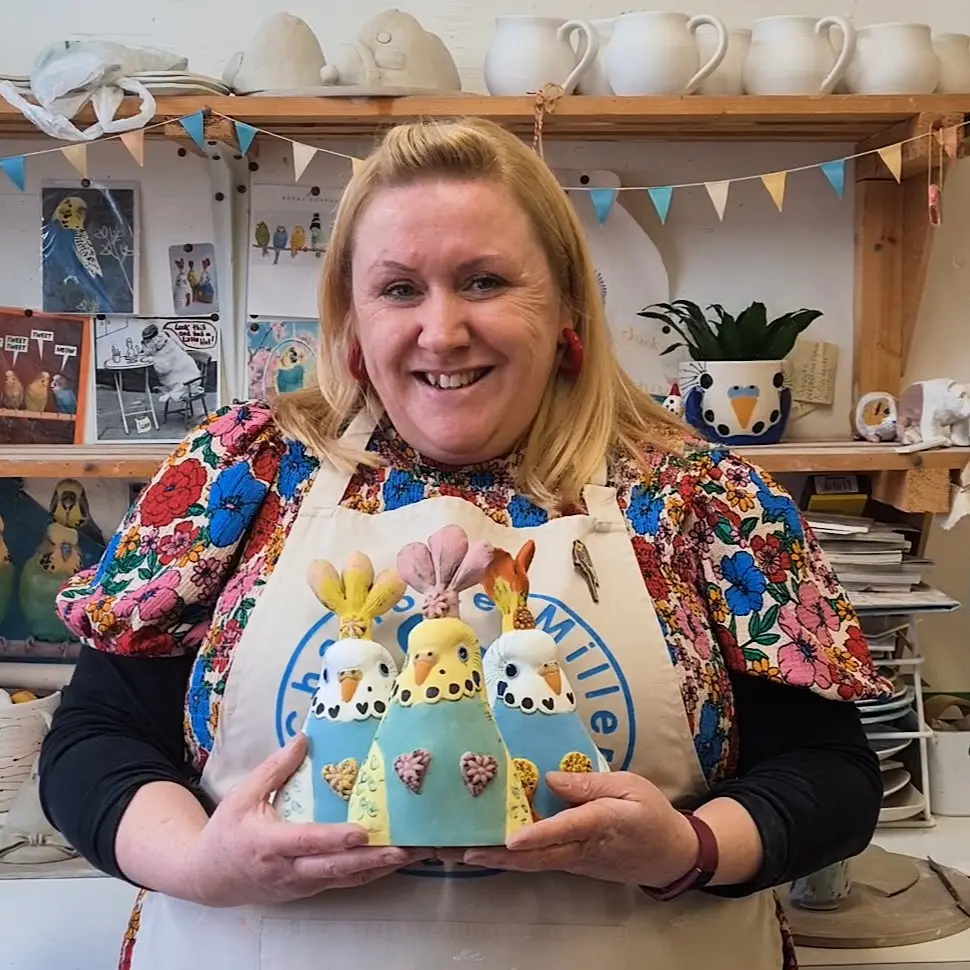 Charlotte Miller Ceramics
Poole, dorset
Charlotte Miller is a Poole-based ceramicist and pottery teacher.
She creates handmade sculptures and tableware inspired by domestic animals and the peculiarities of the British. Her anthropomorphic, whimsical budgie sculptures are endearing and nostalgic, while her quirky tableware is a tribute to the eccentric and kitsch.
As a child, Charlotte became a keen social observer, trawling around car-boot sales with her Dad collecting curios, midcentury kitsch and seaside postcards. Amused by seeing the closeness of people and her pets, she decided to blend the two. Brian (aka 'Elvis') was born out of the chance meeting of an Elvis lover and his budgerigar.
Proudly independent
A few favourite PIECEs
The story behind the business
MEEt charlotte miller ceramics
After studying her degree in Contemporary Crafts at Manchester Metropolitan and then a PGCE at Greenwich, Charlotte went straight into teaching.
Serendipity had a part to play in Charlotte setting up her own studio. Finding herself at a crossroad after being made redundant from her ceramics and sculpture teaching post, she was considering retraining to be a hairdresser. Then by chance, she found a room to rent and set up her first pottery studio.
Now 11 years later and in her second larger studio, Charlotte continues to make characters to make others smile. Teaching is a massive part of her life and the studio is always full of people. Charlotte feeds off of this creative energy and finds working with people from all walks of life and the community so inspirational.
Discover more products
From Charlotte Miller Ceramics
Returns
1st Floor,
Chapel Lane Studios
15 Chapel Lane
Poole
Dorset
BH15 1NU