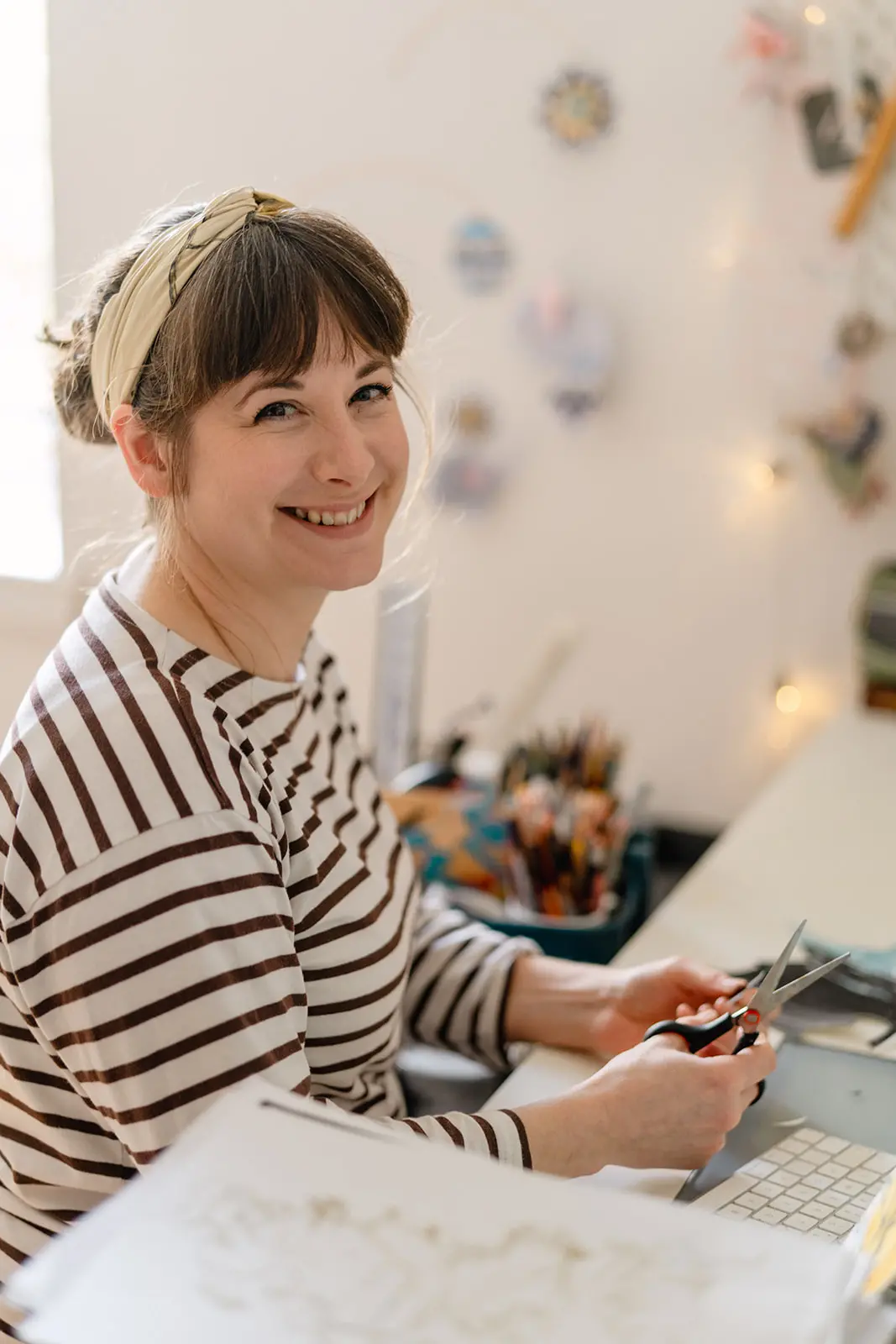 Esther Kent
KINross, central scotland
I'm an illustrator, designer and author with a love of pattern, wiggly lines and colourful, joy-filled homes. I hand-make richly patterned paper bird mobiles in my home studio, and design greetings cards, papergoods and jolly enamel mugs for you to use in your own home or gift with love.
I'm often inspired by family life and that special place of play and wonder that small children are immersed in and us adults are often seeking to rediscover. My wish is that my designs spark happiness, create connection and bring a little bit of retro nostalgia wherever they go.
Proudly independent
A few favourite PIECEs
The story behind the business
Meet Esther Kent
I spent a lot of golden childhood hours drawing, making and writing things, as well as playing very complicated games of shops. It's been a winding journey, but my current creative practice and small independent business has taken me full circle!
I left home for a glorious four years studying illustration and printmaking at Duncan of Jordanstone College of Art and Design in Dundee, before going off to explore book making with a post-graduate degree in publishing. This led me to exciting work managing arts projects and events focusing on stories, storytelling and childrens books (and meeting lots of interesting people!). However it wasn't until I had my own children and moved out of the city that I embraced the call of hands-on creativity and returned to making my own artwork and illustrations.
I've always been fascinated with the way in which decorated flat paper can become a 3D object, and I've always been drawn to art that has a function - useful and beautiful is my benchmark! Finding ways of sharing my artwork as carefully designed products and hand-made objects is a really satisfying challenge for me. I always aim to create products that are infused with story, character, movement and emotion - whether a carefully-chosen greetings card to be filled with a personal message or a hand-folded bird mobile catching the light as it moves in the breeze.
As well as running my independent business, I facilitate local community art projects and write and illustrate for picture books. I'm lucky to live and work near beautiful Loch Leven, with space for three children, chickens, a cat and lots of calming woodland walks.
Discover more products
From Esther Kent
Returns
Please visit holly.co/customerservice for any return queries