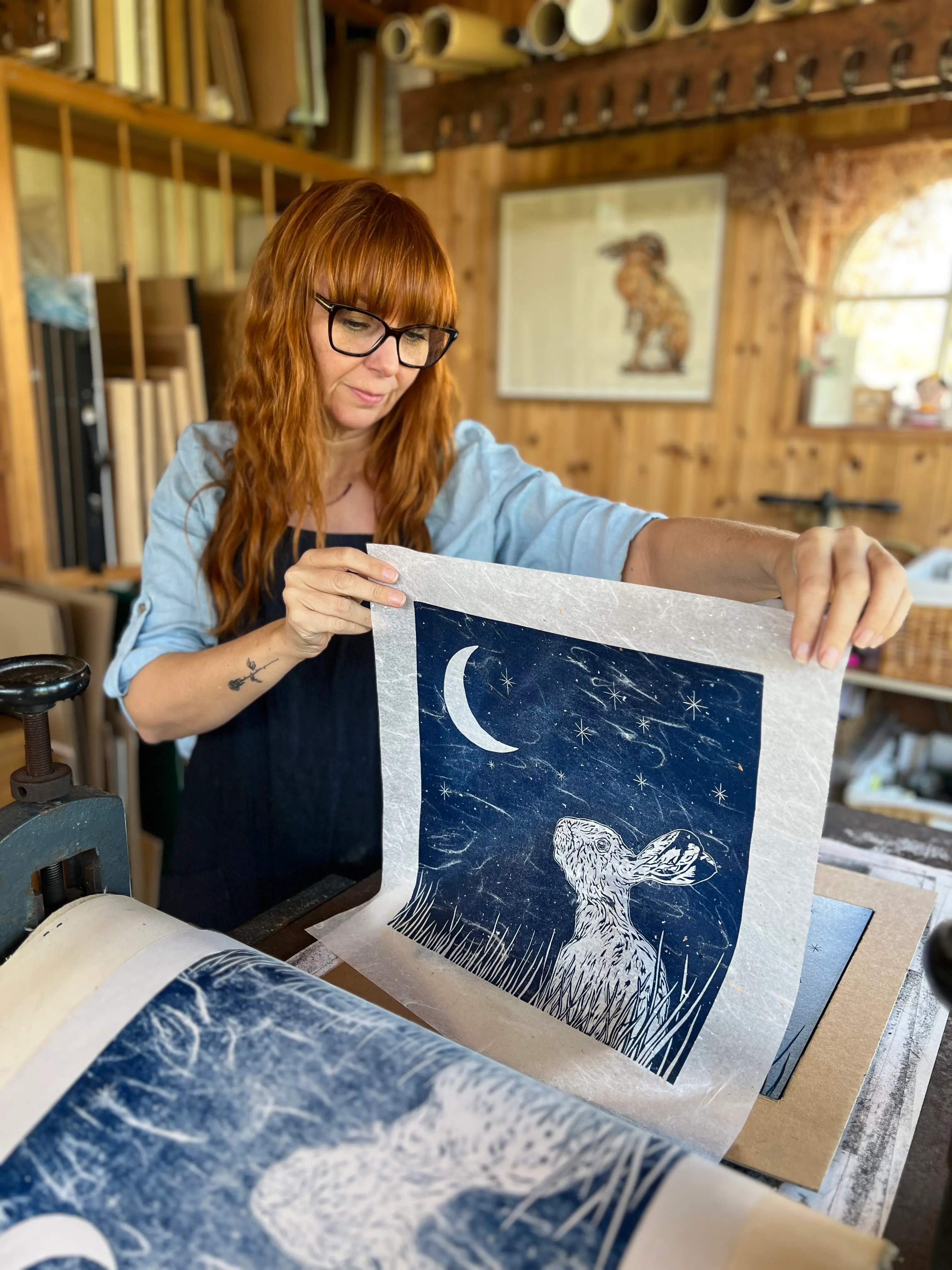 Sarah Cemmick Lino Cuts
Penrith, Cumbria
Creator of original limited edition Linocuts and Art Cards. Designs are inspired by the fluffy, furry and feathered wildlife surrounding her Cumbrian home. With over twenty five years of experience, Sarah has a love for Lino and a passion for printmaking.
Proudly independent
A few favourite PIECEs
The story behind the business
Meet Sarah Cemmick Lino Cuts
Sarah graduated in Environmental Illustration at the University of Sunderland in 1996. With help from the Prince's Trust she began printmaking full time, which started a love affair with Lino. Over the following twenty-five plus years she has established herself firmly within the artistic community, exhibiting widely across the UK with many well respected Galleries, Art and Craft fairs.
Using traditional printing techniques, with the same set of tools she has used since her very first linocut, designs are carved into lino blocks. Prints are then pulled using linseed oil ink allowing some pieces to be additionally tinted with watercolour, giving added texture. This may not be a purist form of printmaking but her love of illustration and the ability to tell a story through image is a key part of Sarah's distinctive style. Exploring a variety of themes, from hares, foxes and British birds to seafood and African wildlife, no subject is out of bounds... apart from spiders, she is really not keen.
Her original Linocuts are held in private collections across the globe and Sarah has been commissioned by the National Trust, RSPB and the Game and Wildlife Conservation Trust. Prints have been published in several books by Mascot Media including 'The Artful Hare' and 'Beauty of the Beast' and can be seen at galleries throughout the UK.
An extensive self published collection of art cards and calendar accompany the originals, all printed in the UK using recycled, F.S.C and biodegradable materials.
She lives and works from her home 'The Pink House' in Cumbria alongside her artist husband David, their two children Rosie and Woody, her beloved BooBoo, the mini long haired dachshund and Tinker the outrageous ginger Tom.
Discover more products
From Sarah Cemmick Lino Cuts
Returns
The Pink House
Southgate
Milburn
Penrith
Cumbria
CA10 1TN