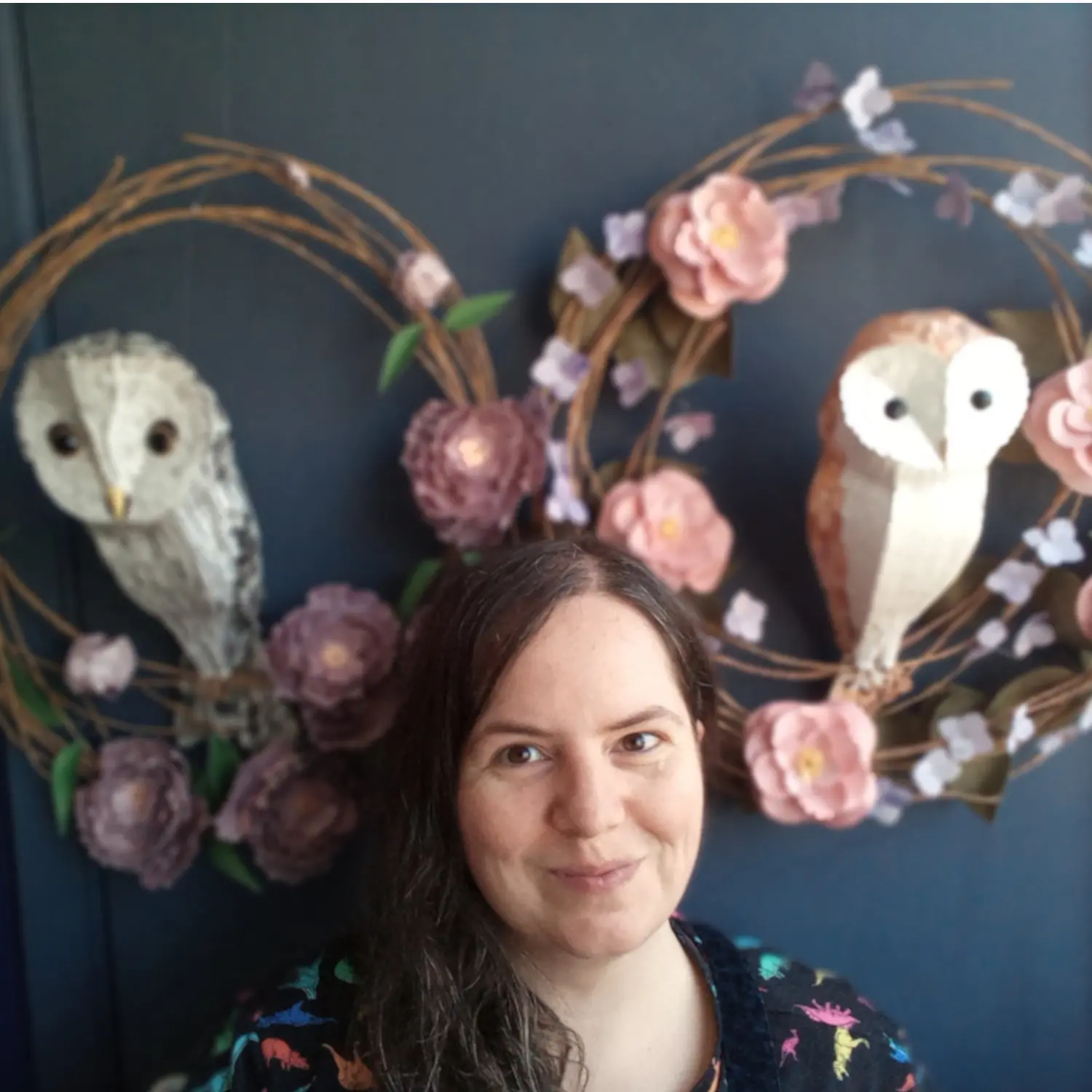 KAPER
Manchester
Welcome to the paper sculpture menagerie. My name is Kate and I make handmade paper sculptures to bring cheer to your décor. Every one of my pieces is one of a kind, made from recycled 300 gsm paper (really sturdy cardstock). Each design is tested for durability, and they are varnished with a UV protective lacquer to seal their edges and protect their vibrant colours. Each sculpture is designed, individually printed, cut, assembled and embellished entirely by hand to make sure each and every one has its own unique character. Birds are my most favourite subject. I also make flowers and other wildlife. I am inspired by countryside walks and garden visitors. I often describe myself as a seasonal maker, as I can often be found at my desk making cosy pieces in the autumn and bright, cheerful blooms in the summertime. I've been making my sculptures for over 15 years now, and my work aims to evoke the joy I find in the great outdoors. I do hope they make you smile.
Proudly independent
A few favourite PIECEs
The story behind the business
Meet KAPER
I've loved birds for as long as I can remember. As a small child I could tell you practically everything there is to know about the peregrine falcon! It was only a matter of time before I would spend my days designing my bird sculptures. When I was 18 I did an art foundation course where I specialized in printmaking. I absolutely loved the individuality of each monoprint and all the different processes. I studied Design Crafts at university, where I learned how to make wood, metal and plastic sculptures. My prototypes were always made out of paper, and so began a love of designing and building paper models. It wasn't long after university that I combined these things to create hand printed paper bird sculptures! 15 years on, and I've broadened out into other wildlife, flowers and foliage, but birds remain my favourite subject. My love of birds has extended to adopting two rescue parrots from the charity Birdline; two delightful fellas called Sam and Pidgeon. When I'm not making my sculptures, I can usually be found playing butler to my parrot pals, making toys and learning to whistle (though, to Sam's great disappointment, I continue to be a terrible whistler!)
It's important to me that every piece I make is unique, and that is evident in every step of the making process. Every part is done by hand. I specialize in monotype screen printing, which means I use a silkscreen in a rather unconventional way, hand painting patterns and designs freehand onto the screen, to ensure each print is different from the next. The process ensures the markings and patterns of each sculpture are unique to each piece. Feathers and petals are all cut and shaped by hand, and every sculpture has its own unique embellishments.
All materials and processes are vegan, and I take my sourcing seriously, I like to know exactly what everything is made of and where it comes from! (If you're thinking about my 'silkscreen'- that's only its name. They are actually made of nylon!) My paper is from recycled pulp and my packaging materials- from my tape to my postcards- are recycled and recyclable. I use invisible plastic fishing line, steel wire and plastic cabochons for eyeballs. I use acrylic paint and metallic lustres in my prints.
Sculptures arrive wrapped in a box adorned with paper ribbon. I use Royal Mail First Class Signed For, or if you've selected a speedy delivery I will use Special Delivery, which is a guaranteed next day service.
Discover more products
From KAPER
Returns
Please visit holly.co/customerservice for any return queries